About Nutritional Counseling Services
Scientific evidence shows Medical Nutrition Therapy (MNT) can effectively put high-risk factors such as hypertension, hyperlipidemia, hyperglycemia and obesity under control and plays an important role in preventing chronic diseases. MNT can also help cancer patients, people who are malnourished (such as the elderly and people with eating disorders) to increase their nutrition. Registered dietitians provide medical nutrition therapy, complement with medical treatments provided by doctors, can achieve disease management to the best extent. Registered dietitians provide practical dietary advice and tailor-made diets based on personal health and nutritional statuses, as well as personal living and eating habits.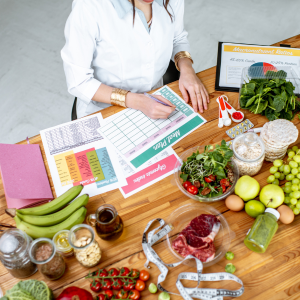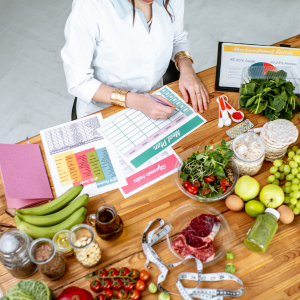 Nutritional counseling services are suitable for the following
Overweight or obesity (adults and children): Target to lose 7% – 10% of body weight in 3 – 6 months

Diabetics: Helps control blood sugar and prevent diabetes complications

Gestational Diabetes: Helps control blood sugar during pregnancy and ensures proper nutrition for your baby

Hyperlipidemia/High Cholesterol/Hypertension patients: Helps reduce bad cholesterol levels and control blood pressure to prevent heart disease

Patients with other metabolic syndromes such as chronic fatty liver disease, high uric acid or gout: reduce the severity of fatty liver and prevent gout attacks

Cancer patients, also helps prevent cachexia and reduce side effects from invasive cancer treatments.

Eating disorder patients (e.g. anorexia/bulimia/binge eating disorder): nutritional support and eating behavior therapy for eating disorder patients

Irritable Bowel Syndrome patients: Help choose appropriate food to alleviate symptoms, maintain intestinal health and ensure nutritional conditions

Sarcopenia patients with (e.g. the elderly): therapeutic diet treatments with high energy and protein to help increase muscle mass

Athletes: providing nutritional therapy to enhance athletic performance and recovery

General health nutritional counseling, healthy eating for children, adults and the elderly
First consultation (45 to 60 minutes per session)
Body weight, body fat and nutritional assessment

Set personal health goals (e.g. target weight, blood pressure, blood sugar, cholesterol levels, etc.)

Design a personalize diet plan

Teach how to self-monitor your diet
Nutrition counselling follow-up consultation (30 minutes per session) * Consultation content may vary due to individual circumstances
Body weight, body fat and nutritional assessment, review diet and exercise diary

Adjust the portion size of the diet according to needs

Discuss a nutrition topic each session and provide corresponding teaching materials such as:

Teach food conversion

Healthy eating out and healthy cooking

Saturated fat and trans fat, food protecting your heart

Sugar-restricted diet and carbohydrate counting, DASH diet and blood pressure

How to read nutrition labels, glycemic index and blood sugar control

Antioxidant nutrition and health, diet and exercise fallacies, etc.
Other Health Education Plans
In order to complement the needs of specialties, our center can co-design with doctors plans suitable for patients, such as: heart rehabilitation plan, diabetes self-management education plan, post-surgery nutrition support plan, cancer nutrition and exercise plan, prenatal nutrition plan, postpartum weight loss planning, etc., to provide patients with premium comprehensive care.
Interested persons can enquire with your attending physician (with physician referral letter) or staff of our center
Dietitians can also provide nutrition workshops/lectures on specific topics, including:
– Weight management

– Nutrition and psychological health

– Immunity-boosting nutrition

– Nutrition label workshops

– Sports nutrition

– How to use nutritional supplements

and more